Company Information
Yamato Godo Pharmaceutical Co., Ltd. has been operating business for over 100 years in a city called Nara where the very first Japanese high civilization was built during the 8th century. We manufacture health supplements as well as medicines. All our products including health supplements are manufactured at our factory under the license issued by the Ministry of Health, Labour and Welfare of Japan. We are proud of the quality of our products.
Recently we have been focusing on exporting our products to overseas. We are now exporting our beauty drinks mainly to the Southeast Asian region. We are dedicated to bring healthier life to those who need it not only in Southeast Asia, but also in other parts of the world.
Company Name: Yamato Godo Pharmaceutical Co., Ltd.
Address: 632-1, Kawanishi, Kashihara, Nara, Japan
President: Yoshiaki MASUDA
Number of Employees: 30


Main Products: Medicines, Health Supplements (Drinks)
Founded: 1943
Export: Singapore, Taiwan, Philippines, USA, UAE
Products for Export (Japanese Package):
Collagen Drink – 100mL
Japanese Plum Drink – 100mL
Stay Awake Drink – 50mL
Energy Drink (Softshell Turtle Drink) – 50mL
OEM Products:
Collagen Drink – 100mL and 50mL
Other Drinks (Stay Awake Drink, Softshell Turtle Drink, Blueberry Drink, Turmeric Drink, Ginseng Drink, Probiotics Drink, etc)
Minimum Order Quantity for OEM: 20,000 bottles
We work closely with the customers and carefully decide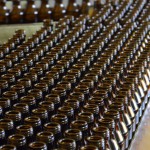 formulations for them to avoid trouble importing their products. Package and label designs are usually provided by the customers and print them in Japan. We advise our customers that the text and designs follow the local rules and regulations. When an OEM order comes in, we first make prototypes to confirm mostly its taste before mass production. We always welcome an inquiry through our website (Japanese and English only).